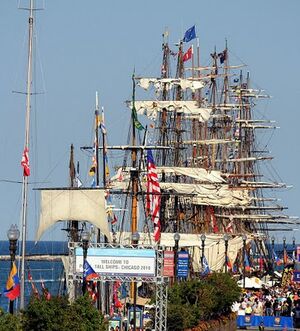 19 ships showed up for this one in Chicago. I didn't get to go to it.
The ships
Edit
Appledore IV schooner
HMS Bounty full rigged ship
Denis Sullivan schooner
Europa barque
Fazsizi sloop
Friends Good Will sloop
Inland seas schooner
Lynx schooner
Madeline schooner
Niagra brig
Pathfinder brigantine
Playfair brigantine
Pride of Baltimore II schooner
Red Witch schooner
Roald Amudesen brig
Roseway schooner
Royaliste ketch
Unicorn schooner
Windy I schooner
Ad blocker interference detected!
Wikia is a free-to-use site that makes money from advertising. We have a modified experience for viewers using ad blockers

Wikia is not accessible if you've made further modifications. Remove the custom ad blocker rule(s) and the page will load as expected.