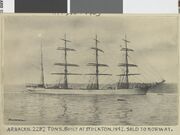 A 4 masted Barque. 
Description
Edit
She was 291 feet long.
1892 May

Launched at the shipyard of Richardson, Duck & Co., Stockton, for British and Eastern Shipping Co., Liverpool.

1908

En route Port Talbot - Iquique, the cargo of coal caught fire and the ship put into Montevideo to put out the fire.

1908

Sold to Lewis, Heron & Co., Liverpool, while still in Montevideo.

1913 February 16

Left Port Talbot for Pisagua with a cargo of coal.

1914 January 14

Sold to Hans Hinrich Schmidt, Hamburg, and renamed Carla.

1920

Delivered as war damage compensation to ???.

1922

Sold to Schröder, Hölken & Fischer, Hamburg, and was renamed Fehmarn.

1924 October

Broken up.
Ad blocker interference detected!
Wikia is a free-to-use site that makes money from advertising. We have a modified experience for viewers using ad blockers

Wikia is not accessible if you've made further modifications. Remove the custom ad blocker rule(s) and the page will load as expected.