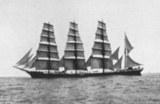 Another 4 masted barque, later called Parma.
Description
Edit
She was 302 feet long at the keel. 4 masted, square rigged on 3 masts and gaff rigged on the jigger mast. 
1902 
Built of steel by A. Rodger & Co., Port Glasgow for Anglo American Oil Co., London. She was given the name Arrow and was rigged as a four-masted barque carrying royals over double topgallant sails.
1912 
Sold to Reederei F. Laeisz, Hamburg, renamed the Parma and put on the South American nitrate trade.
1920 
Handed over to the British government as war compensation.
1921 
Bought back by Laeisz and put back on the nitrate trade.
1931 
Sold to a consortium in Mariehamn, with the legendary Captain Ruben de Cloux and the author Alan Villiers as the primary partners. She was then the biggest sailing vessel in Finland until Gustaf Erikson bought the Moshulu.
1933 
The Parma made the fastest voyage on the wheat trade ever: Port Victoria - Falmouth in 83 days.
1936 
Sold and used as a hulk.
1938 
Broken up.
Ad blocker interference detected!
Wikia is a free-to-use site that makes money from advertising. We have a modified experience for viewers using ad blockers

Wikia is not accessible if you've made further modifications. Remove the custom ad blocker rule(s) and the page will load as expected.