The Bermuda Triangle, also known as the Devil's Triangle, is an undefined region in the western part of the North Atlantic Ocean, where a number of aircraft and ships are said to have disappeared under mysterious circumstances.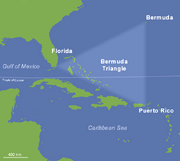 According to the US Navy, the triangle does not exist, and the name is not recognized by the US Board on Geographic Names. Popular culture has attributed various disappearances to the paranormal or activity by extraterrestrial beings.
Documented evidence indicates that a significant percentage of the incidents were spurious, inaccurately reported, or embellished by later authors. In a 2013 study, the World Wide Fund for Nature identified the world's 10 most dangerous waters for shipping, but the Bermuda Triangle was not among them. Contrary to popular belief, insurance companies do not charge higher premiums for shipping in this area.
Ships Lost:Edit
1918: USS Cyclops, collier, left Barbados on March 4, lost with all 309 crew and passengers en route to Baltimore, Maryland
1921: January 31, Carroll A. Deering, five-masted schooner, Captain W. B. Wormell, found aground and abandoned at Diamond Shoals, near Cape Hatteras, North Carolina.
1925: 1 December, SS Cotopaxi, having departed Charleston, South Carolina two days earlier bound for Havana, Cuba, radioed a distress call reporting that the ship was sinking. She was officially listed as overdue on 31 December
1941: USS Proteus (AC-9), lost with all 58 persons on board in heavy seas, having departed St. Thomas in the Virgin Islands with a cargo of bauxite on 23 November. The following month, her sister ship USS Nereus (AC-10) was lost with all 61 persons on board, having also departed St. Thomas with a cargo of bauxite, on 10 December. According to research by Rear Admiral George van Deurs, USN, who was familiar with this type of ship from their service in the USN, the acidic coal cargo would seriously erode the longitudinal support beams, making these aging and poorly-constructed colliers extremely vulnerable to breaking up in heavy seas.
1963: SS Marine Sulphur Queen, lost with all 39 crewmen, having departed Beaumont, Texas, on 2 February with a cargo of 15,260 tons of sulphur. She was last heard from on 4 February, when she was in rough, nearly-following seas of 16 feet, with northerly winds of 25-46 knots, and listed as missing two days later. The Coast Guard subsequently determined that the ship was unsafe and not seaworthy, and never should have sailed. The final report suggested four causes of the disaster, all due to poor design and maintenance of the ship.
1967: December 22, Witchcraft, cabin cruiser went a mile off the shore of Miami. The owner had sent an emergency message and told that the vessel's propeller had hit something. But once the Coast Guard arrived, the vessel was missing.
Ad blocker interference detected!
Wikia is a free-to-use site that makes money from advertising. We have a modified experience for viewers using ad blockers

Wikia is not accessible if you've made further modifications. Remove the custom ad blocker rule(s) and the page will load as expected.