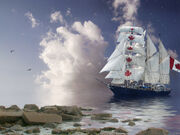 This beautiful canadian barquentine Concordia was a big headline in 2010. She was built in 1992 and was a sail training ship for 18 years until it happened. ON Febuary 18th 2010, she struck a reef near Brazil and began to sink. All the crew members survived and the ship sank in 25 minutes. An elegant ship sank, may she rest in peace. I wonder what she looked like in her final death struggle.
Ad blocker interference detected!
Wikia is a free-to-use site that makes money from advertising. We have a modified experience for viewers using ad blockers

Wikia is not accessible if you've made further modifications. Remove the custom ad blocker rule(s) and the page will load as expected.