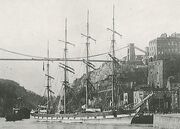 A 4 masted ship
Edit
200 feet long, and quite a beauty as evidenced by the picture.
County of Kinross was a four-masted iron ship built in 1878 by Barclay; Curle & Co.; Glasgow. The vessel was ship rigged with royal sails above double top- and single topgallant sails. County of Kinross was launched in January of 1878 at the shipyard of Barclay; Curle & Co.; Glasgow; for R. & J. Craig of Glasgow. The first master was Captain J. Cumming. In September 1906 the ship was sold to Rederi-A/S Marpesia (K. Bruusgaard); Drammen; Norway; and renamed Marpesia under the command of Captain H. Nilsen. In 1921 it was sold to owners in Buenos Aires and rebuilt as a salt barge and renamed Salinera Española.
Ad blocker interference detected!
Wikia is a free-to-use site that makes money from advertising. We have a modified experience for viewers using ad blockers

Wikia is not accessible if you've made further modifications. Remove the custom ad blocker rule(s) and the page will load as expected.