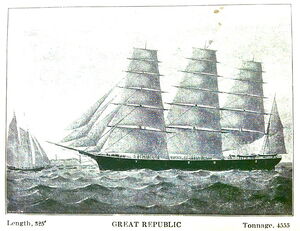 The Great Republic was a magnificent clipper ship /four-masted Barque built in 1853.  She was 325 feet long and had four decks for a time, and had an ornate library and beautiful living quarters. 
1853-Built by Donald McKay, creator of the famous clipper ship, The Flying Cloud; he refused an offer of $300,000 for her to be sold, apparently to either Enoch Train and Co or Grinell Mintrun and Co, owners of the Flying Cloud.
1853-On December 27th a bakery catches on fire in New York, sparks fly and burn her to the waterline nearly. She is sold by Mckay to the underwriters, who sell her to A.A. Low and Brother for about $30,000. She was due to depart for San Francisco from Liverpool on the 31st.
1853-1854-Rebuilt, but with 3 decks instead of 4. Foreyard is 110 feet instead of 130, and mainmast is 200 feet high instead of 250.
1855-Maiden Voyage to Liverpool from New York, Takes 13 days.
1856-Makes run of 92 days and 4 hours from New York to San francisco
1861-Makes run from New York to San francisco in 104 days
1862-4th mast removed, making her a 3 masted clipper ship.
1869-Sold to Merchant's Trading Company for $55,730 and renamed Denmark.
1872, On March 5th hit by a hurricane off Bermuda, abandoned and sank.
Ad blocker interference detected!
Wikia is a free-to-use site that makes money from advertising. We have a modified experience for viewers using ad blockers

Wikia is not accessible if you've made further modifications. Remove the custom ad blocker rule(s) and the page will load as expected.