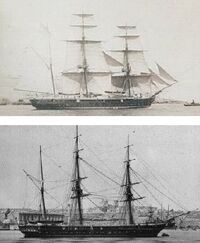 Above: HMS Cruizer at full sail.
Below: Cruizer with furled sail.
      HMS Cruizer was an elegant 17-gun warship commissioned by the British Royal Navy and launched at Deptford, in the United Kingdom in June of 1852.
    Five years subsequent, Cruizer was assigned to the China Station and saw frequent action during the Second Opium War between Great Britain and the           Qing Dynasty of China, during which her commander led the capture of Canton (Chinese: 广州市) in 1856. Cruizer and Vice               Admiral Fellowes went on to assist in the capture of several Chinese-held forts along the River Hai, in Tianjin, China in 1858 during the same war.
    By 1867, the aged  Cruizer was restationed in the Mediterranean (styled HMS Lark), and subsequently served as a training vessel from 1872 until her                   decommissioning and breaking up forty years later at Malta in 1912.
Ad blocker interference detected!
Wikia is a free-to-use site that makes money from advertising. We have a modified experience for viewers using ad blockers

Wikia is not accessible if you've made further modifications. Remove the custom ad blocker rule(s) and the page will load as expected.