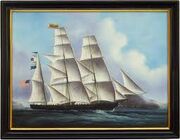 The Houqua was a clipper ship that sailed for A.A. Low and Brother, a merchant company. It was named after a prominent Chinese merchant. The Houqua is notable for her bad luck and the fact that she was one of the earliest clipper ships.
1844: Built for A.A. Low and Brother by Brown & Bell.
1844: Maiden voyage
1864: Mysteriously disappeared
Collision and Meteor Strike
In 1853, the ferry Tonawanda collided with Houqua in the fog in New York Harbor, necessitating repairs before she could set sail for San Francisco. "Subsequently, off the Horn, on this passage, she had very heavy weather, lying to, off and on, for many days. On May 5th, in a violent squall, a meteor, apparently about the size of a man's head, broke at the masthead, throwing out the most violent sparks. Coming down the mast it passed to leeward and the two men standing near were sensibly affected and much frightened.
Disappearance
Edit
As she was sailing to New York in 1864, she disappeared and was never heard from again. She was probably wrecked by a storm or sank in a typhoon but nobody knows what really happened.
Ad blocker interference detected!
Wikia is a free-to-use site that makes money from advertising. We have a modified experience for viewers using ad blockers

Wikia is not accessible if you've made further modifications. Remove the custom ad blocker rule(s) and the page will load as expected.