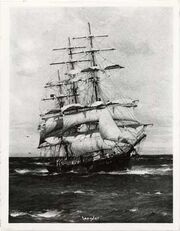 Leander was a composite built clipper ship. She was designed by Bernard Waymouth, and built in 1867 by J G Lawrie of Glasgow for Joseph Somes.
Before 1871, Leander sailed between London and the Far East (China) and later from China to New York City. She was in the tea trade until 1879. Re-rigged as a barque in the 1890s, the ship was sold to R. Anderson of London, then to Ross & Company. Her last owner was Seyed Youssouf bin Ahmed Zuwawee of Oman and was renamed Nusrool Mujeed in 1895 and broken up in 1901.
Ad blocker interference detected!
Wikia is a free-to-use site that makes money from advertising. We have a modified experience for viewers using ad blockers

Wikia is not accessible if you've made further modifications. Remove the custom ad blocker rule(s) and the page will load as expected.