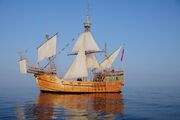 The Matthew is a famous ship. She was used in John Cabot's voyage to Newfoundland in 1497.
Description and Life
Edit
The Matthew is obcure before 1497. She was possibly built in 1493. She also could have been captured and renamed. The Matthew was a small merchant ship based in Bristol, England. She was 3 masted and was only around 80 feet in length. she displaced 50 gross tons. She could hold a captain and 19 crew. Aside from John cabot's voyage to Newfoundland, she is referenced in english ship records as late 1511. However, in 1513, she was probably broken up. 
A replica was built in 1996 and she starred as the Dawn treader in the blockbuster narnia movie: The Voyage of The dawn Treader
Ad blocker interference detected!
Wikia is a free-to-use site that makes money from advertising. We have a modified experience for viewers using ad blockers

Wikia is not accessible if you've made further modifications. Remove the custom ad blocker rule(s) and the page will load as expected.