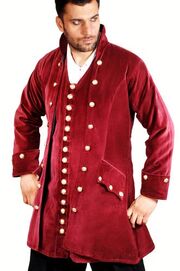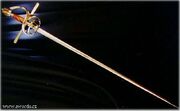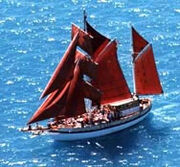 The Red Cutlass is/was the pirate Captain James Redcoat's flagship. A former Spanish brigantine once called the Santa Maria de Guadalupe, Redcoat took her in a daring battle using only a 8 gun sloop, the Black Ranger. He burned the sloop after the sea battle, captured the Red Cutlass and outfitted her with 28 guns and 25 crewmen. He then transformed her into a fearsome brig/brigantine and sailed her for 12 years on a path of plunder until she was disabled nearly to the breaking point by facing the british Admiral Matthew. Matthew died in the bloody 6 hour sea battle, tragically. The Red Cutlass was burned to the water line due to the decision not too take the former corsair's ship into the royal navy for a refit.
Ad blocker interference detected!
Wikia is a free-to-use site that makes money from advertising. We have a modified experience for viewers using ad blockers

Wikia is not accessible if you've made further modifications. Remove the custom ad blocker rule(s) and the page will load as expected.