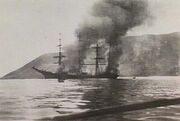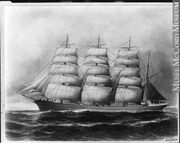 Reliance was a 4 masted clipper ship.
Description
Edit
Reliance was 304 foot long. She had 4 masts with royal and skysails over double topgallants
1884 January

Launched at the shipyard of W.H. Potter & Sons, Liverpool for C.W. Corsar, Liverpool, but managed by W.T. Dixon & Sons, Liverpool. Captain J. English was given command of the ship.

1892

C.W. Corsar took over management of the ship.

1907

Caught fire and was burnt out during loading of saltpetre at Iquique.
1907 S. Soler, Valparaiso, bought the burnt out hull from the underwriters and rebuilt the ship and renamed her Ricard de Sloer. Captain M. D'Angelo.
1917 Sold to J. Laguna, Barcelona, and was renamed Iberia. Captain E. Torner. 1
919 Sold to D. Mumburu, and was renamed Antonia Mumburu.
1924 Broken up.
Ad blocker interference detected!
Wikia is a free-to-use site that makes money from advertising. We have a modified experience for viewers using ad blockers

Wikia is not accessible if you've made further modifications. Remove the custom ad blocker rule(s) and the page will load as expected.