Sailors ate biscuits, wine, beef, water, fish coat from over the side and cheese on voyages. They sometimes drank beer.
On long trips, the water was quickly rendered unfit for human consumption, so the sailors resorted to beer. Food quickly became infested with maggots.
Citrus fruits such as lemons and oranges were desirable for preventing scurvy.
In Brtitish clippers in 1906, this was the weekly ration for every crew member that cant buy his own food:
3 pounds of soft bread and 4 pounds of biscut
3 pounds of salt beef
2 pounds of salt pork
2 1/4 pounds of preserved meat
3/4 pound of fish
6 pounds of potatoes
1/2 pound of dried vegetables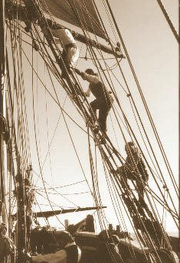 2 pounds of flour
8 ounces of oatmeal
1 3/4 ounces of tea
4 ounces of coffe
1 1/4 pounds of sugar
1/3 pound of condensed milk
1/2 pound of butter
1 pound of jam or marmalade
1/2 pound of syrup or molasses
4 ounces of suet (eeew, bird food)
And, condiments and onions were allowed once in a while. And margrine would be added in place of butter frequently.
Ad blocker interference detected!
Wikia is a free-to-use site that makes money from advertising. We have a modified experience for viewers using ad blockers

Wikia is not accessible if you've made further modifications. Remove the custom ad blocker rule(s) and the page will load as expected.