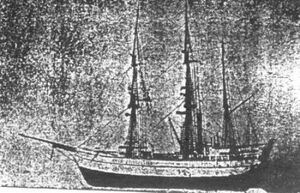 Probably the mystery ship associated with the RMS Titanic, Samson was an Icelandic sealer/whaler steamship. She was 10 miles away, but had no wireless and therefore couldn't keep in contact and thus never knew about the fatal CQD sent from the RMS Titanic. The Samson could have seen the Titanic's morse lamp, but because it was hunting illegally, may not have wanted to be noticed. And so it sat idily by while the Titanic sank.
Ad blocker interference detected!
Wikia is a free-to-use site that makes money from advertising. We have a modified experience for viewers using ad blockers

Wikia is not accessible if you've made further modifications. Remove the custom ad blocker rule(s) and the page will load as expected.