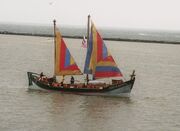 Viking ship rigged, with 2 masts and brilliantly striped square sails and triangular sails. This boat has a crew of 3 , (counting a cat with no tail :p) and their crew is Russian. I saw this one in 2006 as well. Her crew makes pottery and dolls. They have a gold cross instead of the usual bowsprit that most ships carry. She is also a crusing yacht.
Ad blocker interference detected!
Wikia is a free-to-use site that makes money from advertising. We have a modified experience for viewers using ad blockers

Wikia is not accessible if you've made further modifications. Remove the custom ad blocker rule(s) and the page will load as expected.