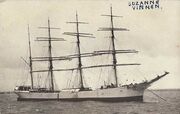 Another Vinnen 5 master, built in 1922. Had a crew of 23, 262 feet long and could go 6 and 1/2 knots. 
Sold 1938 to Italy as a merchant marine school ship and renamed Patria; later sold to Antonio Rocco of Trieste for commercial service in the Atlantic and renamed Imperatore; survived the war and converted to motor ship at Livorno 1946-47, with additional names of Ernesto S and Piombino
http://bob.plord.net/Ships/MS-3/Germany/pix/SusanneVinnen3.jpg
Ad blocker interference detected!
Wikia is a free-to-use site that makes money from advertising. We have a modified experience for viewers using ad blockers

Wikia is not accessible if you've made further modifications. Remove the custom ad blocker rule(s) and the page will load as expected.