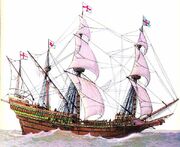 What people do not realize about the whole Armada campaign is the English used fireships to break up the Spanish formation. Some say they were old and useless, but they were really young and helpful, but needed to be burned in order to beat the Armada. The ships' names and their owners are listed here.
1. Thomas of Plymouth 200 tons
Owned by Sir Francis Drake and particapated in the raid on Cadiz in 1587.
2. Bark Bond 150 tons
Owned by John Hawkins
3. Bark Talbot 200 tons
Owned by John White
4. Hope of Plymouth 180 tons
5. Cure's Ship 150 tons
6. Bear Yonge 140 tons
7. Elizabeth of Lovesoft 90 tons
8. Angel of Hampton 60 tons