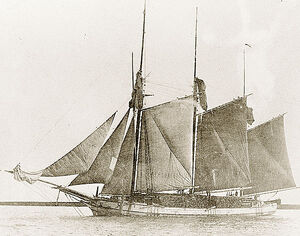 The Rouse Simmons, better known as the famous Christmas Ship was built in 1868 and curiously sank 44 years later in 1912 in a violent gale. I will now try to explain the story of this historic schooner as easily as possible. In 1867, the Lake Michigan shipbuilders decided to build a schooner that would take a load of Christmas trees to Chicago annually. She was launched the following year as a 3 masted schooner, about 124 feet in length and painted white. She carried Christmas trees down to Chicago for 19 years and then the crew just sailed home to Algoma, Wisconsin or Lake Michigan without letting people come on to the ship, but in 1887 that changed dramatically. Captain Herman Schumeman, an experienced christian skipper and a Lutheran bought the vessel and then times changed. He and his warm-hearted family with a crew of 17 promoted a message of goodwill to all in Chicago when they docked, inviting the kids over onto the ship and spending Christmas with families. Schumean would do the same and place a Christmas tree in the fellowship hall of his home church, St. Paul's Evangelical Lutheran Church. Sadly, the Christmas cheer then ended. On November 22nd 1912, the same year as Titanic's sinking, Schumeman left on his last voyage. Only 3 hours after he left Michigan, a terrible gale arose. Force 10 winds, lighting, snow , thunder, rain. and sleet hit the Rouse Simmons without a single warning. Somehow, she was spotted by a lighthouse off Algoma, WI and then vanished, probably sinking after that because the wheel was torn off. Three other ships went down with it in that gale. She lost everyone on board. Searches to find her were to no avail. In 1976, she was found intact at 73 feet deep in Lake Michigan's icy waters. There are no plans to raise her, however.
Ad blocker interference detected!
Wikia is a free-to-use site that makes money from advertising. We have a modified experience for viewers using ad blockers

Wikia is not accessible if you've made further modifications. Remove the custom ad blocker rule(s) and the page will load as expected.