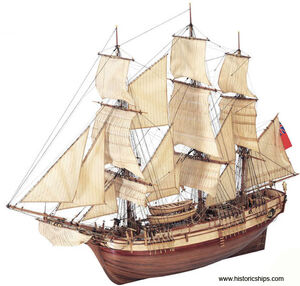 I bet you've heard of the mutiny on the Bounty but do you know much about the ship, my users? She was built in 1784 and lasted only 6 years. She was at first built as a coal carrier and was about 90 feet long at the keel. Originally called the Bethia, she was taken into the service of the royal navy in 1787 and renamed Bounty and armed with 14 guns. She was chartered for the infamous voyage of William Bligh. After the mutiny, the mutineers sailed to Tahiti and then, so not one person would see them, burned the proud full rigged ship on January 28th 1790. In 1957, her remains were found near Tahiti in a small bay that has since been called Bounty Bay. Extensive studies have been done on the wreckage though only a few pieces remain of the historic ship. A replica was built of her, but it sank in Hurricane Sandy in 2012.
Ad blocker interference detected!
Wikia is a free-to-use site that makes money from advertising. We have a modified experience for viewers using ad blockers

Wikia is not accessible if you've made further modifications. Remove the custom ad blocker rule(s) and the page will load as expected.