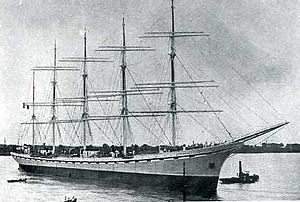 France II
Life
We know a great deal about this one. She was made completely out of steel, no wood was used in the building of this magnificent ship. She had double topsails and top-gallant sails which usually meant no royal sails. But, France II set royals in very light winds. She was built during 1911. 480 feet long, she was designed as a nickel ore carrier in bulk but also could take on passengers. They would have 7 lavish rooms to choose from, a library a therapy service and a beautiful lounge with a piano included. She had 40 crew to begin with but this was increased by 5 in 1919. She was sold in 1915 and again in 1916, but she still had the same homeport.
Replica
In 1995, a replica was began but as of 2010, not much progress has been made on her. One day, we hope to see a replica of this deceased windjammer. Yet, in 2011 it was agreed hat a replica would be built. A fundraising effort is now underway.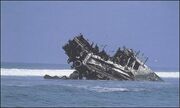 Wrecked
In the night of July 12, 1922 she went aground on the Teremba reef (Urai bay) north west to the Ouano reef, nearly 60 nm north west of Nouméa, New Caledonia, homeward bound to Europe with a cargo of chrome ore from Pouembout and was dismasted. Because of fallen cargo rates her owner refused to pay to tow her free from the Ouano reef by a tug boat which was absolutely possible. In 1944, American bombers bombed the wreckage for target practice.