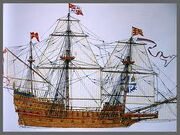 The San Martine De Pourtugal was a magnifcent galleon. Built around 1580, she was, by rights, the property of Pourtugal. She was one of 12 galleons in the Pourtugese navy at the time. She was likely about 105 feet long at the keel and could carry a crew of 500 men. She was 1,000 tons in weight and armed with 48 guns.
In late 1587, she, with her sister vessels were taken into custody for the Armada by the Marquis of Santa Cruz. But, because the Marquis's own fine 1500 ton galleon had been cruelly destroyed by Drake earlier in April, plans for the armada changed drastically. The galleon of the old Marquis was probably meant to be the armada's flagship, so a new flagship had to be selected quickly, due to the king's demands that the armada sail by Febuary of the following year. The San Martine was selected and chaos insued as crews prepared for departure. When the Marquis died unexpectedly, the Duke of Medinia, the king's cousin took over command and the 134 Armada vessles were out to sea in April. The San Martine had 300 soldiers and 177 sailors on boardd her. By the time the fleet encountred the English navy of 105 ships, that number had been cut back by 5.
The San Maritne was heavily involved during the fighting and took a savage beating. At least 50 of her crew were killed and 150 wounded, the duke recorded, and she lost her flagstaff and mainmast stay, plus other damage not yet found in record. After the battle off Gravelines, France, the battered flagship turned around and headed for Spain. As sevre storms struck, many ships vanished without a trace. Somehow, the battered galleon, with 8 other ships, reached the port of Santander, Spain with 280 dead and 60 deathly sick. Her fate beyond that is unknown, but she was probably scrapped due to her poor condition.