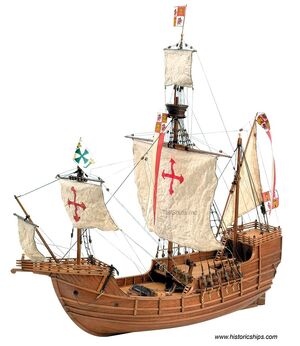 Christopher Columbus's Ship the Santa Maria is intresting. She was rigged as a nao or a 3 masted ship. her date of launch is unknown, but she was orginally called La Gallega. Columbus rented here and renamed her Santa Maria de la Concepcion. She was wrecked on Christmas Day 1492 and her wreck has not been found even though many claims have been filed of its finding. One of her anchors has been recovered though and is on display in Spain. In 2014, it was announced that an American explorer had found the ship, and while it is yet to be confirmed, it appears pretty probable that the ship that went down 522 years ago has been found.
Ad blocker interference detected!
Wikia is a free-to-use site that makes money from advertising. We have a modified experience for viewers using ad blockers

Wikia is not accessible if you've made further modifications. Remove the custom ad blocker rule(s) and the page will load as expected.