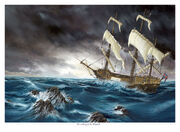 The Whydah was a very unlucky pirate ship. She was launched in 1715 as a slave ship. She was 105 feet long and had 3 masts. Sam Bellamy, the cruel pirate, captured her as his flagship in 1717. Then, tragedy struck the Whydah. Off the coast of Cape Cod, a violent storm arose. The Whydah had no chance of survival, and neither did the other 2 ships with Bellamy. The Whydah's mainmast snapped and she sank on the shoals of Cape Cod. Only 2 survived. 5 others survived from the other ships and were all hung.
Ad blocker interference detected!
Wikia is a free-to-use site that makes money from advertising. We have a modified experience for viewers using ad blockers

Wikia is not accessible if you've made further modifications. Remove the custom ad blocker rule(s) and the page will load as expected.