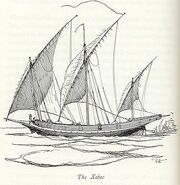 The Xebecs are a very curious type of vessel. They were mostly based in the Meditranean sea. They were not usually used in war, primarily only in trading voyages. They had a long bowsprit and a mizzen mast, often latteen rigged and once in awhile square and latteen rigged. They were quick and fast and were in use from 1500-1700. Te Xebecs had 2 or 3 masts and were usually armed with 16 guns for self defense. They were commonly used by corsairs. In 1700 or so, Xebecs declined and eventually vanished into history, but were used by the Continental Navy of the United States and by pirates for a time until they sailed into oblivion.
Ad blocker interference detected!
Wikia is a free-to-use site that makes money from advertising. We have a modified experience for viewers using ad blockers

Wikia is not accessible if you've made further modifications. Remove the custom ad blocker rule(s) and the page will load as expected.