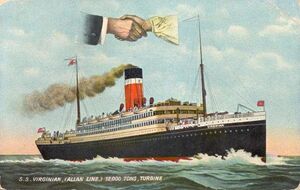 The RMS Virginian was an Allen Liner, she sped to the sinking Titanic's aid, 178 miles distant from her position. She was not projected to arrive until 10 AM the next day, April 16, 1912, but valiantly tried to help the stricken sinking liner. At 2:10 AM, April 15th, she picked up the final transmission ever sent from Titanic, 2 Morse Code V's (...- ...- ) sent as a last desperate test transmission of distress. The final transmission cut off as the Virginian's operator tried to reply, but in vain, to reach the stricken ship's operator, Jack Philips. And with that final ragged transmission of Morse code, as the brave band played the Episcopalian hymn "Autumn", followed by one last hymn, "Nearer My God To Thee", the RMS Titanic began her death struggle. But, the Virginian still pressed on, and finally, after 120 miles sped at 15.5 knots, RMS Carpathia telegraphed her with the news they were too late, and the survivors were on board her. Reluctantly, the Virginian turned back, but deserves a lot of credit for her valiant efforts.
Ad blocker interference detected!
Wikia is a free-to-use site that makes money from advertising. We have a modified experience for viewers using ad blockers

Wikia is not accessible if you've made further modifications. Remove the custom ad blocker rule(s) and the page will load as expected.