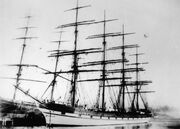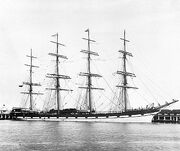 The Wendur was a beautiful 4 masted clipper ship. She was about 400 feet long and had royal sails over double topsails and topgallants. Her fore and main mast carried skysails for a while. The beautiful clipper was built in the month of September with a hull of iron in the year 1884 in Glagslow, Scotland and lasted until 1912. On November 13th 1884, Wendur embarked on her maiden voyage to Calcutta India from the port of Clyde in Scotland. She made excellent time and reached the port in just 111 days. She also sailed from San Francisco to Queenstown England in 1886 in just 117 days. In 1894, the gem of a clipper sailed to Melbourne from Freikstand in only 81 days. On January 1st 1896, Wendur began her greatest voyage yet. She set out from Newcastle England to Valspario Chille. Sailing to the Northwest, Wendur blasted into Valspario, Chile in 29 1/2 days. She had set a new sailing record! She had beaten the old record previously held by a small steamship by 2 1/2 days. In 1906, the proud clipper was sadly degraded. She was stripped of her skysails and reduced from an excellent 4 masted clipper to a barque rig. On March 9th, 1912 Wendur arrived at Plymouth England with a cargo of wheat and was ordered to sail on. 3 days later, at the age of 28, Wendur's career came to a tragic end. She was wrecked in a storm on the 7 stones in the isles of Sicily, where the Thomas W. Lawson had been wrecked 5 years before. The captain and 17 crew were rescued by a small British steamer, but 3 lives were lost in the sinking. May she rest in peace! Her wreckage is probably only a few parts and peices. The year of 2012 marks the solemn 100th annivesary of Wendur, Rouse Simmons and Titanic's sinking, may all 3 rest in peace.
Ad blocker interference detected!
Wikia is a free-to-use site that makes money from advertising. We have a modified experience for viewers using ad blockers

Wikia is not accessible if you've made further modifications. Remove the custom ad blocker rule(s) and the page will load as expected.